Horsepower:
200HP @ 1800 rpm
Dimensions:
23'L x 9' W x 10' H
Control system:
Murphy/TECO
KEY HIGHLIGHTS:
Optimized cylinder selection maximizes operational flexibility and utilization of engine power
Pre-engineered design for expedited delivery and accelerated time-to-market
Factory load tested equipment and minimal assembly helps bring your operation online quickly
Shipping Weight: 26,000 lbs
Scrubbers designed to ASME Section VIII Division 1.
Piping designed and tested to ASME B31.3
API 5th Edition DA2 pulsation and vibration analysis performed for smooth operation
Murphy Centurion Panel
Rugged four-runner I-beam skid with environmental containment designed to be set on a prepared earth pad


Hot gas bypass on aftercooler section
Intel spool piece with basket strainer
Suction-based speed control
Automatic cooler Louvers
Heat tracing
Insulated scrubbers
Automatic makeup/recycle valve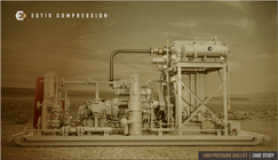 THE WOLF - PERMIAN BASIN CASE STUDY
High-Pressure Gas Lift (HPGL) delivers strong artificial lift performance without the need for well intervention. But is it really as effective as ESP gas lift configurations? We partnered with 111-year-old operating company SM Energy to find out.
MOTOR: TECO-Westinghouse EP2004
---
200 HP

3600, 1800, 1200, 900 RPM

Totally Enclosed Fan Cooled (IP54), (IP55 Ratings for Frames Sizes 5000 and larger)

NEMA Premium Efficient Ratings From 1-500 HP, Denoted Catalog Prefix "EP" - Note (1)

Department of Energy Efficiency Certificate # CC002A

36 Month Warranty from Date of Manufacture
World Standard Compressor backed by Ariel service and support network
Available 72-month warranty
VVCPs included on 1st and 2nd stages for maximum operational flexibility
| Cylinder | Size | Pressure |
| --- | --- | --- |
| 1st Stage Cylinder | 7.5" JG | 600 psig |
| 2nd Stage Cylinder | 5.125" P10-HE | 1200 psig |
| 3rd Stage Cylinder | 3.25" P11-CE | 1800 psig |
COOLER: INDUCED DRAFT, VERTICAL DISCHARGE
---
48" Induced draft
Vertical discharge